Acoustic Sound Insulation
---
As an Acoustic Sound Insulation & Acoustic Coating Materials LLC we are the major company about Acoustic Products and Sound Insulation Applications in Turkey. Aksa Acoustic is a tremendous manufacturer of fabric coated acoustic panels , aluminum acoustic panels , wooden acoustic panels and acoustical noise control products. Aksa Acoustic is highly known company in acoustical and soundproof products. We work with partners and collaborators around the world to carry out large-scale projects on any continent. Our products are certified by the top international certification organizations.
Acoustic panels are covered with fabric provides insulation by preventing echoes in the environment. They can be applied on walls or ceiling. With the colorful acoustic fabric on the front surface of the fabric-covered acoustic panels, every interior special design can be obtained.
Acoustic Panels are a professional grade acoustic product that can be mounted to walls or ceilings to soundproof any space.
more
Acoustic wood panels are used as sound absorber and reflector on ceilings and walls. It is quite possible to obtain special designs for you because it has different model and color options as perforated and seamless. Due to its variety of colors and shapes, we can produce it as it is requested.
Acoustic Wood Panels will quiet your space by absorbing and diffusing sound. Acoustic Wood Panels will add privacy and intimacy to your space. Acoustic Wood Panels will improve speech intelligibility, recording quality and listening quality.
more
If you want to provide panel view, this is one of the most ideal products for the acoustic roof panels. It is produced with the desired color with the soundproofing fabric on the outer surface and is applied with a special hanging apparatus in a panels.
You've taken steps to soundproof your space using our acoustic wall panels. But even the best wall paneling leaves a large space open where noise can bleed through — the ceiling. For the ultimate in room treatment, add a hanging acoustic panel to your space.
more
Acoustic Ceiling Panels
Acoustic ceiling panels have a long history in improving and aiding room acoustics. When attached directly to a ceiling or when used as a drop ceiling, acoustic ceiling panels and sound absorbing drop ceiling tiles provide effective noise control. We produce and use quality products as Aksa Acoustic Sound Insulation & Coating Materials Company. Get noise control and design flexibility with Specialty Ceilings that have Total Acoustics performance.
Baffle Suspended Ceiling Panel
Ambient Sound Acoustic Insulation Coating Materials
Insulation covering materials used in media and volume acoustical applications have to be of high quality due to acoustic echo isolation and sound isolation requirement. We produce and use quality products as acoustic architecture. Among our acoustical applications, there are conference room acoustic covering, meeting room ambient acoustics, theater auditorium, and so on.
Meeting Room Ambient Acoustics
Theater Hall Acoustic Insulation
Acoustic Screens | Acoustic Table Separators | Acoustic Pods
Acoustic screens, table seperators ans acoustic pods are used to ensure that the quality of the work is better to prevent noise clutter in places such as offices, work places, call centers. Acoustic Soundproofing Facade, Acoustic Table Partitioning Facade, Acoustic Meeting Module is our most preferred products ..
Basotect Melamine Acoustic Ceiling Panels
Basotect ceiling hanging panels can supply your spaces in suitable colors. You can get a great view by decorating your own space. These ceiling panels are hanged with special hanging apparatuses. Antibacterial does not produce bacteria with its special structure. It does not contain any chemicals and has the property of non-flammability. Acustic basotect cylinder panel, Acustic Basotect Floating Ceiling Panel, Acustic Basotect Sagittal Baffle Panel models are produced and application sales services are available.
Wooden Wool Cement Based Acoustic Wood Panel
Heraklit cement based wood panels, in essence cement and wood. Our decorative wooden panel products, which have a stylish appearance that , are applied in a stylish decoration beside the isolation of acoustic sound insulation. Hexagonal Acoustic Wood Panels, Triangular Acoustic Wood Panels, Parallel Acoustic Wood Panels models are available.
Triangular Acoustic
Wood Panels Celenit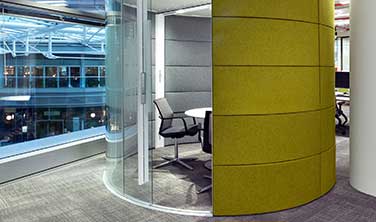 Parallel Acoustic
Wood Panels
Acoustic Foams
Acoustic foams are an easy to install, sound dampening insulation that absorbs multi-frequency noise, minimizes reverberation, improves acoustics, and keeps sound from escaping the enclosed area. About Acoustic pyramid foam, acoustic wedge foam, egg crate acoustic foam and all type of acoustic foams informations you can see in our page. Of course, one of the biggest benefits of our acoustic foam products is the ease of putting them to work. Almost anyone can put our foam in place, and you won't need to completely remodel your space in the event your soundproofing methods need to be removed.
Velvet Covered Panel
The velvet covered panel is called "techno touch foam" and the inner surface of the sponge is an acoustic material. You can have a 50×50 stantard model and a techno touch sponge in colors, or you can get the design you want by working in custom production.
more
Acoustic Sound Absorbing Fabric
Acoustic sound absorbing fabric is a sound insulation material that provides long lasting durability that is used on the front visible surface of materials used as acoustic panels.
You can choose the color you want from the Acoustic Sound Absorbing Fabric color chart and let us know.
more
Do you want to have a Cinema Room in your home ?
How is a movie theater built at home? Is sound insulation important in the movie theater?
And if you are looking for answers to many questions like these, you are in the right place. In this application, we use the best quality cinema devices by keeping the quality of the sound balanced and by doing acoustic sound insulation application in order to prevent the sound transitions with it.
more
Aksa Acoustic
Professional Sound Insulation Specialist
Since 2004, Aksa Acoustic has started activities with acoustic insulation, volume acoustics and insulation application and acoustic material production for the needs of high acoustical design and performance and architectural design of today's interiors.
The biggest goal of our company is to make the products with the same quality as the leading companies in world market and to present them to the whole world. In line with this market in Turkey and to take the largest share. In accordance with the priorities and criteria of the areas to be implemented, it offers the possibility to choose from a very wide range of Parmephon – Aktav Acoustic products with a capacity of 1,500,000 m² prepared specially for the standard or student.